We started with a passion and dream to become one of the many elements of joy at your home. When designing furniture, we make every effort to ensure that it is beautiful and functional. We carefully research global trends and draw on the experience of the people most important to us – our employees. For over 35 years, we do it every day.
For over 35 years, the brand has been passionately building a better life and creating the most important space for you. Your home.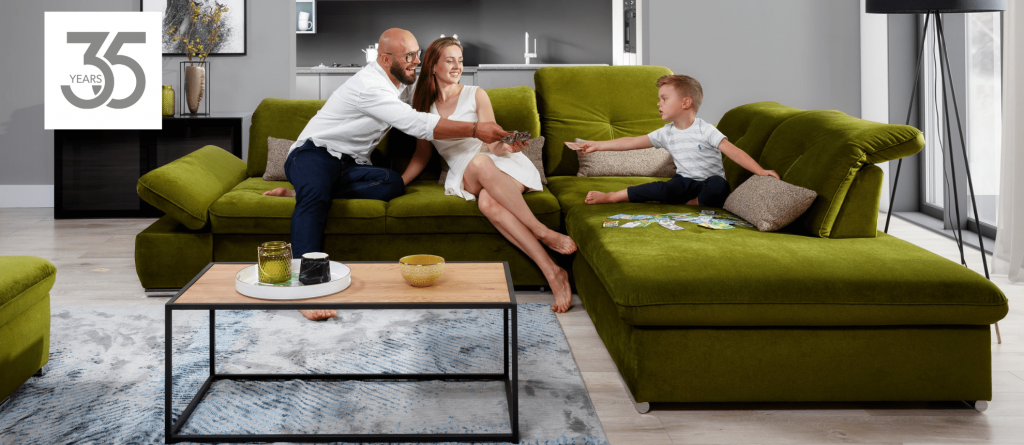 BRAND CREATED by the family
Behind the uniqueness of our furniture is the family. Thanks to enthusiasm, ingenuity and courage, WAJNERT Meble furniture is not only nicely designed, but also fully useful. The WAJNERT Meble family company was founded by Wiesław Wajnert in 1985. Today, WAJNERT Meble is a team of people whose professionalism is bound by emotional family ties. In addition, we are united by the love of creation and the desire to constantly search for new challenges. We make sure that each collection meets your expectations, that the design of the furniture is combined with functionality and gives satisfaction from its use. We hope that the joy of using our furniture translates into the joy of being together as a family.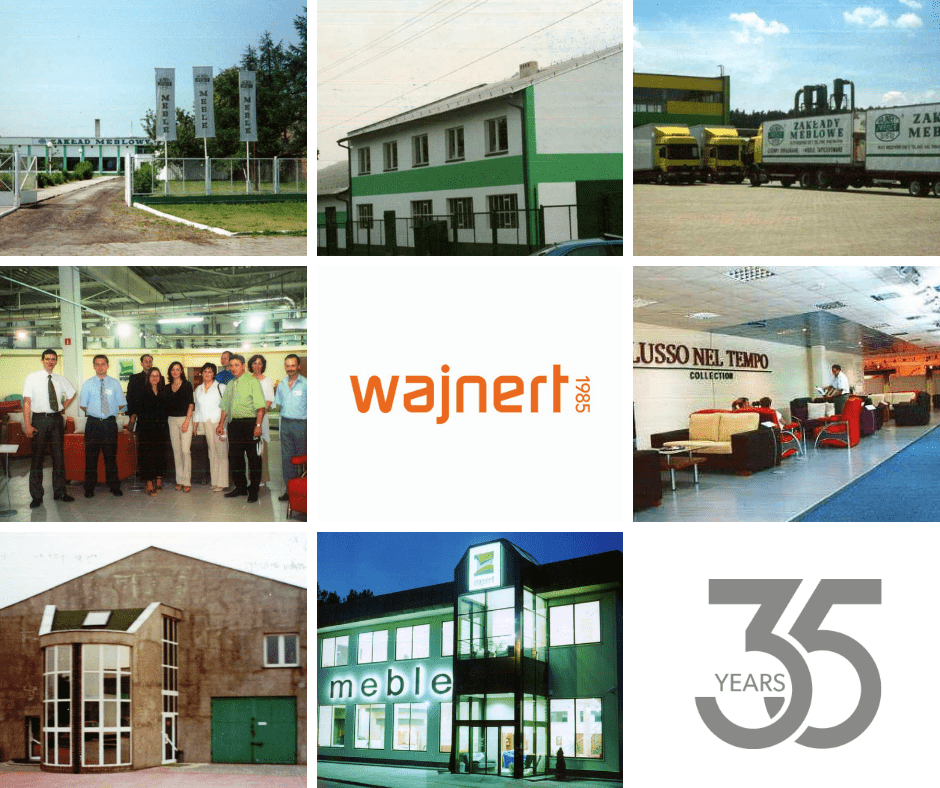 Family expansion
From the very beginning, the family is our driving force. When we started making furniture together in 1985 at our first plant in Ose, it was a small plant with two people on board. Each year of our activity and the experience gained, we were even more motivated to reach out for our dreams.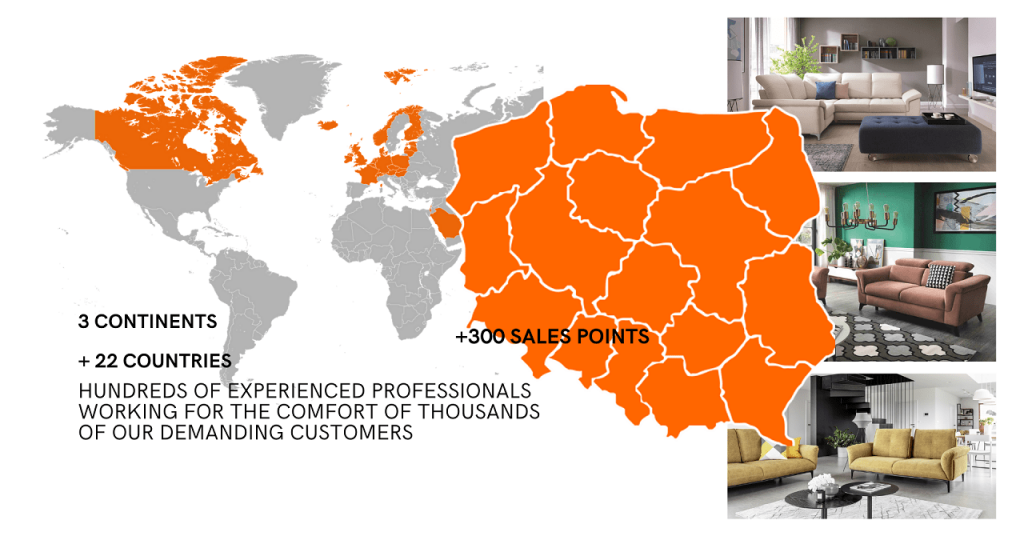 Over the years, passion and commitment have allowed us to become even better. At the end of the 90s, we started building a factory in Międzybórz and we opened ourselves to a new direction, the production of upholstered furniture. Our products have been appreciated not only on the domestic market, but also internationally. We were able to quickly discover the business potential of such ventures, as a result of which we started opening our own furniture stores. Furniture is our love, so we wanted to show it all over the world. Determination and persistence allowed us to build a network of over 300 distributors and to enter the international market. Currently, our factory creates sofas, corner sofas, beds and armchairs for 22 countries, located on 3 different continents.
Trusted employees – our experts
The beginnings of our business showed us that our love for beautiful and designer's furniture is unfortunately not enough to change the look of hundreds of thousands of interiors. Therefore, we focused on relationships and building a strong team of experts. Along with the growing brand awareness and the construction of new production plant, we also carefully choose the people who are the driving force of the company. Our employees have been with us for over a dozen years, and entire families often work at our manufactory. We appreciate how trustworthy they are, and we thank them that together with us they create functional, passionate products at a truly international level.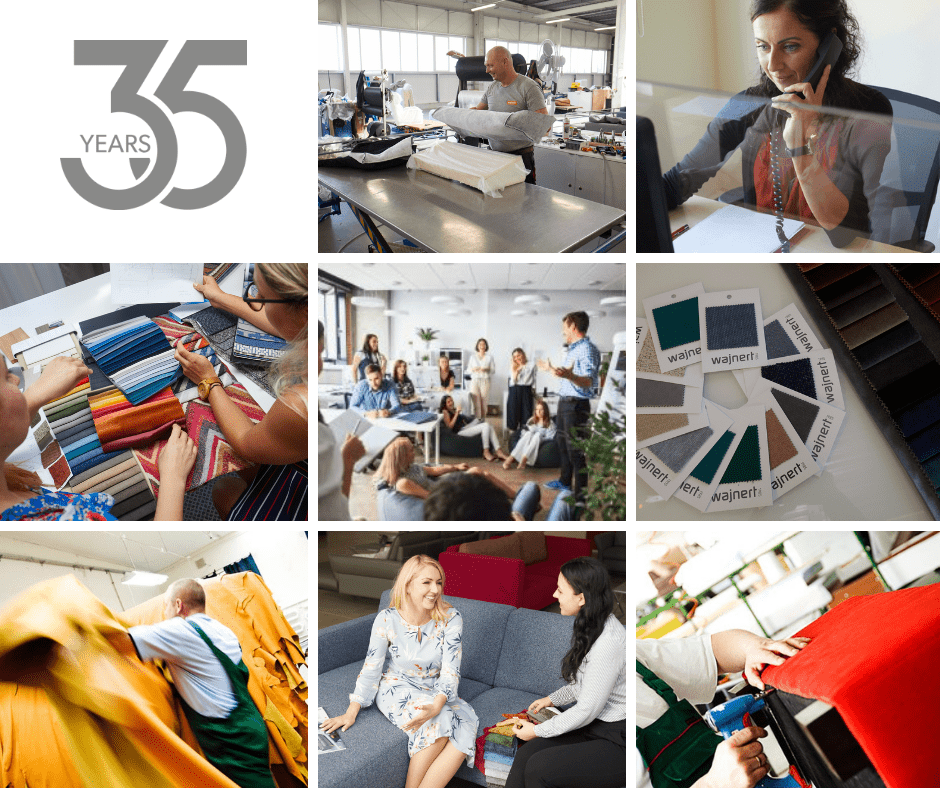 A future respecting the past
As a furniture company with strong traditions, we are constantly evolving and also are aware of the importance of changes. That is why, every day, we try to look boldly into the future, standing on the foundations of the past. Evolution is definitely a better solution than revolution.
The present time obligates us to place more care for the natural environment and rational use of natural resources. Ecology is not only a fashionable trend for us today. These are the principles we try to follow at every level of the company's development. In our daily work, we practice waste segregation, rational management of water, energy and materials used in the production of furniture. We want be part of the ecological challenge and change the world through small steps. We encourage you to commit to a sustainable home life and inspiring your surroundings to change for the sake of the environment. We want to provide you with a product that can be called fully "caring", where it cares for you and for our planet. Furniture made with the use of safe materials and ecological, recyclable or allergy-friendly fabrics are proof of our concern for an ecological lifestyle. We hope to inspire you to change, to look at everyday choices and to run your home in an environmentally friendly way.
We have already changed over 150,000 interiors
As a Polish furniture manufacturer, from the very beginning of our activity, we took responsibility for knowing global trends and a perfect combination of design with the use of useful furniture functions. We know that the furniture we design will decorate your home, becoming one of the elements creating closeness and supporting warm relationships, often for many years.
We proudly remember the last 35 years
In 2020, together with our clients, we celebrated 35 years of the Wajnert Meble brand. On this occasion, we organized a competition, the results of which showed us how much our furniture contributed to the creation of beautiful memories for many generations. Your stories gave us strength and enthusiasm for the next 35 years of work, so that together we will create new, beautiful furniture and memories.
Today, we pass this energy, trust and cordiality to your family in the form of functional furniture. We are sure that when you take a closer look at our furniture, you will find the same passion and love that has been with us for over three decades. Learn about the ideas, posted on the blog, for arranging the most important space in the world. Your home. Let us be part of it!