Co znajdziesz w artykule?
Are you planning a makeover of your living room in your apartment? See how you can change the interior by using calm shades of beige or brown. With the help of carefully selected furniture, accessories and wall colors, you can arrange your living room in a natural style. Get inspired by our proposals for a stylish apartment transformation!
In this article, you can learn more about the following topics:
why is it worth choosing beige as the leading color of the living room metamorphosis,
what to do so that the beige interior is not boring,
how to arrange a beige living room in an organic style,
what does the metamorphosis of a New York style living room mean,
how to arrange an industrial living room,
things to keep in mind when transforming a living room.
Beige as the color of the living room metamorphosis – why is it worth choosing?
If you are bored with the current interior of the living room or the room needs to be modernized, try to make an effective interior metamorphosis. To make the whole thing harmonious, choose the main color and style in which you want to arrange your dream room. For lovers of classic, timeless solutions, we offer brown and beige, universal colors that set the tone for relaxation.
These colors are perfect for apartments inspired by nature, modern or classic. It creates a different feel, depending on the colors, furniture and textile designs with which it is combined. The colors of the earth will soothe our well-being, and at the same time stand out for their elegant character. Beige will work well for the metamorphosis of a living room or bedroom, a skillful combination with other colors and the selection of stylish accessories is a guarantee for a successful transformation.
Beige furniture, walls, accessories … What to do to keep the interior from being boring?
Beige is a very calm color, so you need to be careful how you incorporate it into your home. There are some tips to help you avoid monotony and perform a spectacular metamorphosis with beige in the lead role.
1. Mix different shades of beige and other earth tones.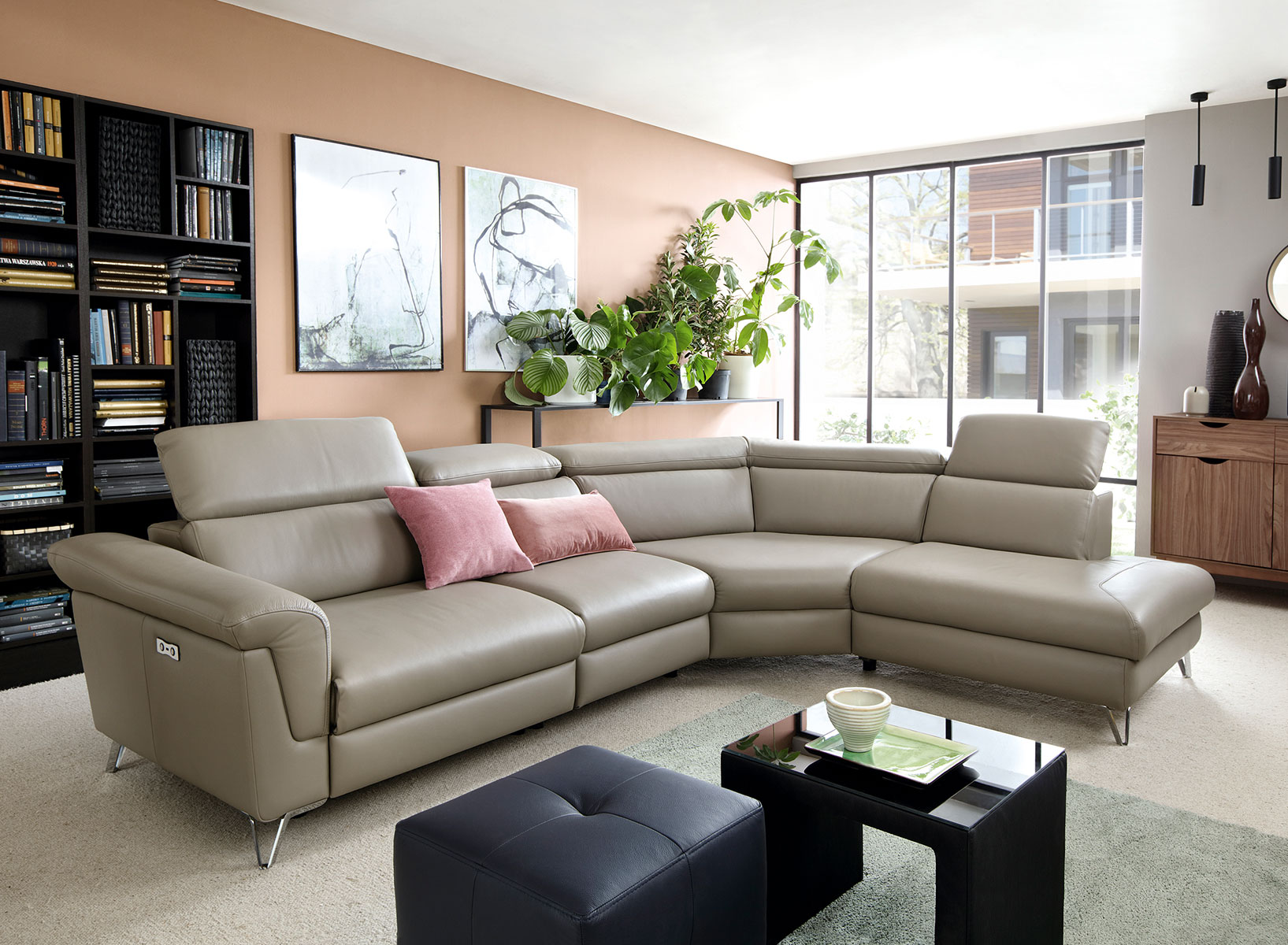 2. Beige set with an expressive color.
Another way to diversify the interior is to combine beige with a contrasting color. You can bet, for example, on brick red, navy blue, turquoise or dark green. Color accent in the form of pillows, curtains or other accessories will add character to the arrangement.
3. Choose different material textures.
For monochrome arrangements, choose materials with different textures. Concrete, structural paint or structural fiberglass wallpaper will work well on the wall. Interesting accessories include jacquard pillows, a long-pile rug or a woven blanket.
4.Bet on good design.
For a successful transformation of your living room, carefully select furniture and accessories. Pay attention to the quality of work and design. Well-designed furniture will be not only functional, but also stylish. Original accessories are the icing on the cake in the beige living room.
5. Be consistent.
The interior should be consistent not only in color, but also in style. Choose one style, industrial, natural or glamor, and then choose the right furniture and accessories. In the following part of this article, you will learn how to transform an apartment in three different styles using beige furniture.
A beige living room in a natural style. How to arrange it?
The natural style, sometimes referred to as organic or ecological, refers to the beauty of nature with subdues colors and natural materials. If you want to transform your living room, paint it in a delicate shade of beige, cream or off-white.
In the central part of the room, place a comfortable IMPERIO sofa with beige upholstery. Place organic, unbleached cotton pillows and finish with a gray plaid over it. You will gain a perfect place to relax after a busy day. Wooden sofa legs will match furniture made of pine or oak, bookcase, shelves or a coffee table.
In the natural style, houseplants are very important. A magnificent dracaena or a coral palm tree, climbers, succulents, choose freely from thousands of species and invite plants to your living room. Place them in ceramic or terracotta pots. Also remember about accessories for the living room. Most of all, baskets and woven pouffes will work.
A metamorphosis of a living room in the New York style 
The New York style is associated with elegance and glitz. It can be a great idea for arranging a living room for a family who values ​​comfort and high-quality furniture. The arrangement of the interior in the New York style is distinguished by symmetry, decorativeness and attention to detail. Pick fabrics with shiny thread, velour, velvet, as well as ornamental patterns. Hang thick curtains from the ceiling to the floor on the windows. When creating a New York style metamorphosis, stick to subdued colors – beige and gray are especially great.
For an apartment in a New York style climate, choose furniture with a classic form, for example the elegant modular MOCCA corner sofa. The brown leather upholstery will emphasize the elegance of the interior, and the modular system will allow you to create a piece of furniture tailored to the needs of your family. Put the segments together the way you want. Thanks to the movable headrests and the relaxation function, you will be able to relax in the company of a book, a good movie or organize a get-toghether with friends.
An industrial style living room – metamorphosis of the apartment
Beige is not the most obvious choice in the case of an industrial style, but with a good sense of aesthetics, you can use it to create an original interior. Industrial arrangements refer to post-industrial buildings, they can be observed, for example, in lofts arranged in former factories. They are characterized by a raw, functional character and are based on materials such as solid wood, steel and concrete.
If you want to make an industrial metamorphosis of a room, cover one of the walls with structural paint imitating concrete. Paint the rest of the walls in gray or beige. You can display installations such as pipes or ventilation ducts, they will be an original interior decoration. In the living room, place a selected sofa, a low coffee table made of raw wood and MODERN armchairs with beige upholstery in a cool shade. Their simple black painted steel structure is reminiscent of the industrial style. You will find out that it is an ideal proposition for a living room decorated in a modern, austere trend.
In the case of the industrial style, a good idea is also a metamorphosis of furniture and accessories that have lost their former glory. Try to renew old chairs or paint the wire basket with black spray paint, it may be used for storing blankets or newspapers. Remember that the industrial style also goes well with furniture made of pallets or wooden boxes.
What else is worth remembering when transforming a living room? 
When arranging a living room in shades of beige, it is worth choosing one color tone, warm or cold, and then consistently stick to it when choosing furniture, colors of the walls and decorations. Warm shades of beige will suit such colors as brick red, cream and warm brown. They look great with a brick wall. They create a cozy, inviting atmosphere. The cold shade of beige looks great in combination with gray, including materials such as concrete or natural stone. It can be freely combined with chrome and silver elements.
Make a metamorphosis of your living room in shades of brown or beige and gain an elegant and cozy interior. Subdued colors of the earth allow you to calm down after an eventful day, soothing our senses. These harmonious colors let you relax and recharge your batteries.